CAPP is a manufacturer of laboratory equipment and benchtop equipment for professional laboratories. CAPP is well known for providing high quality products worldwide due to their focus on producing innovative and user-friendly fluid handling equipment.
CAPP's history goes back to 1984, where the founder Jørgen Cappelen developed the first fully autoclavable pipette for the laboratory technicians at the University of Southern Denmark. This was a milestone in the history that came to mark the beginning of CAPP.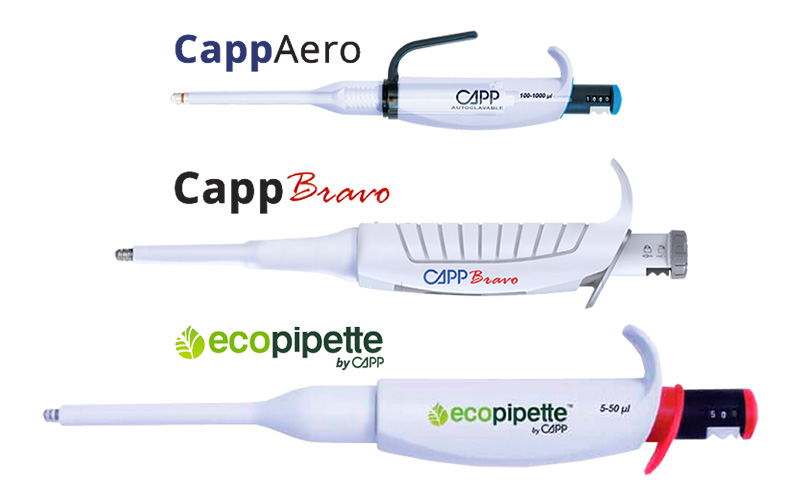 The innovative and efficient products quickly became a success in many countries outside Denmark. In the 1990s, CAPP expanded its markets to include Canada, the UK and the Netherlands. In 1997, CAPP introduced its CAPPAero product line – a cutting-edge pipette with innovative design and ergonomic features.
Expanding the range in the 2000s resulted in an expansion of CAPP's business in more than 80 countries. Today CAPP is owned by the German company AHN Biotechnology and is headquartered in Germany. In addition, CAPP has sales and service offices in the US, Brazil, China and India.
Produced and tested individually
The design of each CAPP pipette has a common history; a tale of the hands that gave it a form of carefully selected materials, of dedicated care and patience. Each pipette is individually produced and tested by a very skilled craftsman.
CAPP's mission is to continue to provide a full range of liquid handling instruments and laboratory equipment with the same robust design and accuracy that has made CAPP the preferred choice in many laboratories worldwide.
Watch more videos about CAPP products
CAPP has produced a number of videos about many of their products.
Watch videos about product skills, service check on pipettes and much more.