Accountability and elimination of greenwashing
The ACT label is the leading environmental label for laboratory products. Created by the independent nonprofit organization My Green Lab, ACT is designed to help labs make smart, sustainable product choices based on an environmental impact score. By emphasizing accountability, consistency and transparency (ACT – Accountability, Consistency, and Transparency) when it comes to production, energy and water consumption, packaging and end-of-life products, ACT makes it easy to choose more sustainable products.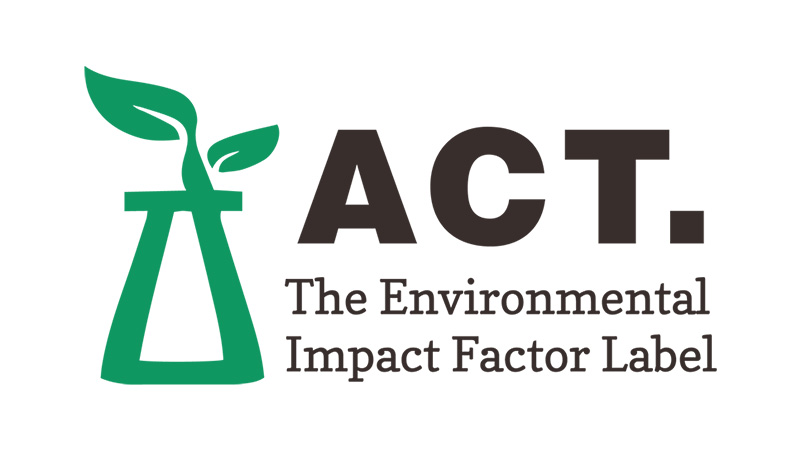 Reduce the environmental impact
The opportunity to reduce the environmental impact of laboratories through smarter procurement is enormous. ACT is designed to meet the need of both researchers and purchasing specialists for clear information on the environmental impact of laboratory products. Thus, ACT labeled products enable laboratories to reduce their environmental impact by making smarter purchases with clear and easily understandable information verified by third parties.
Online database with ACT products
ACT labeled products undergo a comprehensive 2-6 month assessment to certify sustainable product attributes, assign the product an assessment score and issue digital product labels. Overall, it provides an easily transparent overview of the products manufacturing process and the manufacturers environmental initiatives. The product labels are not found on the product, but are published in an online database.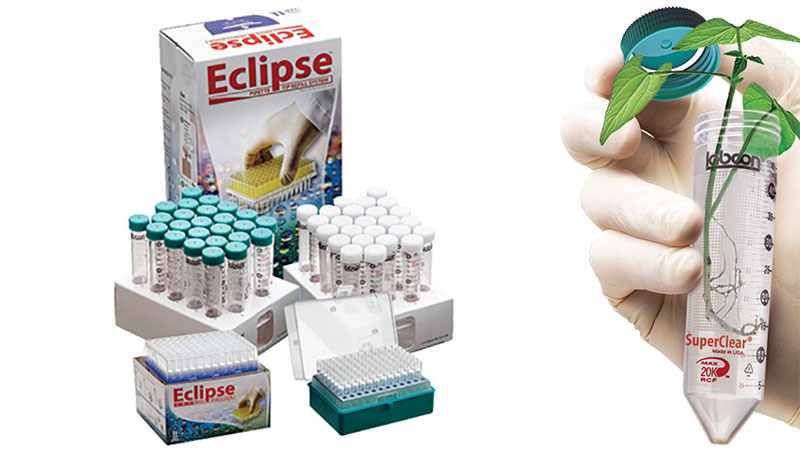 Most comprehensive program for LS
The criteria for the ACT label, also known as the Environmental Impact Factor (EIF) criteria, were developed with input from industry experts and external stakeholders. Scientists, sustainability specialists, purchasing specialists and manufacturers all provided valuable feedback on the EIF criteria, resulting in ACT – the most comprehensive product labeling program for life science products.
How to read the ACT label
Categories on the ACT label include manufacturing, user impact, end of life and innovation. These categories are rated on a scale of 1-10 by independent professionals. For a final Environmental Impact Factor (EIF) score, the category ratings are added together. The lower the score, the less impact on the environment. Labcon's score includes 1 in Manufacturing Impact, the lowest possible score, reflecting Labcon's continuous commitment to sustainability! Click for more information about Labcon!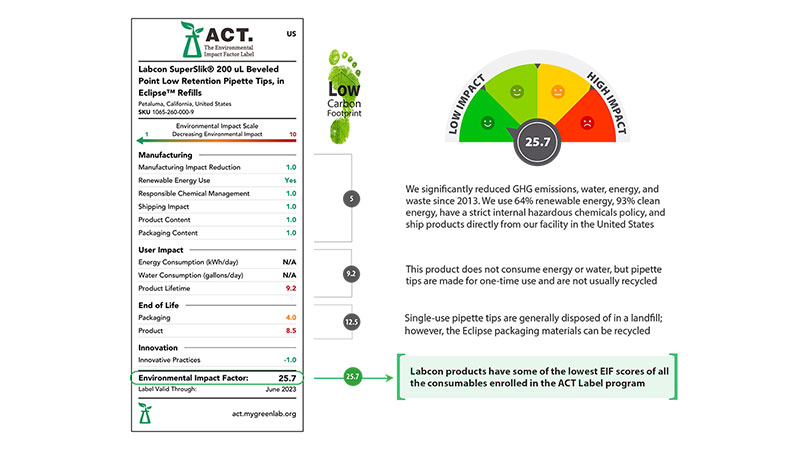 Get more information about the ACT label
Click on the link below if you would like more information about the ACT brand, a more accurate description of
how the labeling is read, as well as which scores Labcon's various products achieve.